French as a Second Language
Art Direction | UX | UI
The Challenge
Create an online resource for the French as a Second Language department of the Ministry of Education. It needed to supply pre-requisite information for a live online training session and drive traffic to the site.
The Approach
We took a minimalist approach to the online resource and developed an email in order to facilitate sign-ups to the event, leveraging pre-existing email lists. I wanted to keep the user journey as simple as possible.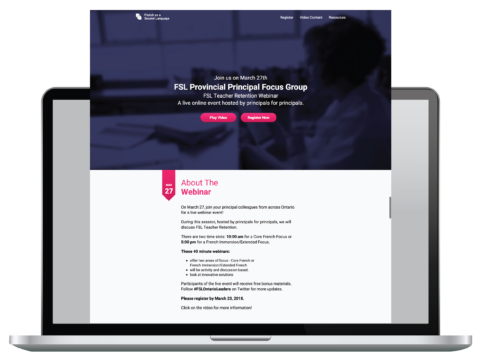 Principal Focus Group
The resource contained a clear linear learning path with helpful additional resources supplied by a third party.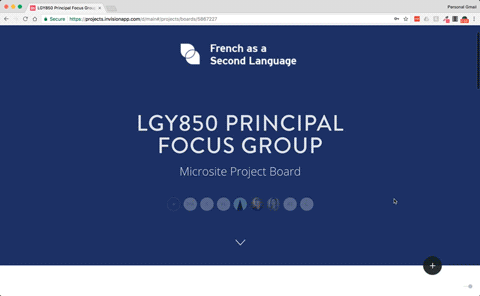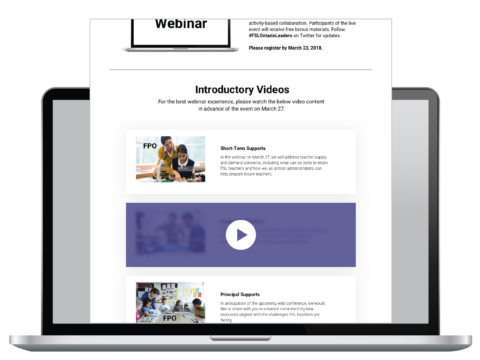 Collaboration
I used an InVision Board as a hub for the Art Direction. This ensured consistency across the project team and allowed for direct collaboration with the client. I also used Freehand by InVision to collaborate remotely with the client during the wireframe and content architecture phase.
Wireframes
Once the project team was aligned with the clients needs and vision we were able to build out wireframes to illustrate our recommendations to the client. You can view a version of our clickable wireframes here
Static Mockup
Once we received sign-off on the overall structure we began to iterate on the visual design elements. This was done using Sketch and InVision. Once sign off on the mockups was received, I was able to hand off the prototype to the dev team via InVision Inspect.
Final Site
The finished product provides a seamless experience from the email campaign, to the pre-conference learning to the attendee registration. The email and registration elements were managed through Campaign Monitor. Click here to visit the live site